Big Springs Plumbing & Heating has the best rates around and is the most accommodating. We will use for all our plumbing and heating needs.
Jim and Wendy Corrignan - Airdrie, AB
We have had Big Springs Plumbing work on our house and our business, and have been pleased every time. Their quotes are reasonable and they always work within our needs, and listen to our ideas. We believe in supporting the businesses in our community, and our church. We recommend Big Springs Plumbing, and we will definitely choose them if we have future plumbing or heating needs.
Norm and Noemi Blades - Airdrie, AB

Our landlord recommended your company and I am glad we used your services. The work was completed on schedule and we were very happy with the job done at the price quoted, which too was competitive. I would definitely recommend your company to my friends.
Ruby Bulsara, Kumon Math and Reading Centre - Station Crossing, Airdrie, AB

We have been using Big Springs for all of our plumbing and heating requirements since we moved to Crossfield in 1999. During that time we have had quite a few occasions where it has been necessary to contact them for both standard maintenance and emergency repairs. Every time we have used them we have been very pleased with their quick response, reasonable prices and friendly service, and we would not hesitate recommending them to anyone.
Ian and Debby Fraser - Crossfield, AB
We were very pleased with Big Springs work. They came as soon as we called, did very professional work, and left with everything neat and tidy. We keep their number by our phone.
Ron and Jean Sackett - Crossfield, AB

What is there to say but great work, great people! We keep going back to them because they have a good reputation at doing good honest work, with a friendly smile. They make sure you are happy with the job before they leave the premises. I would go nowhere else.

Big Springs Plumbing provided excellent service. They were prompt, kept their word, efficient, courteous and respectful of me and my home. Their work was up to standard and met code resulting in an excellent inspection. I would definitely recommend them to others.
We have used Big Springs Plumbing three times now. They have done a great job at explaining all the options that are available and their pros and cons. We had difficulty with a new install that had a factory problem; whenever the problem acted up they were here ASAP to work on the problem.
I have dealt with Big Springs Plumbing several times since purchasing my home in 2008. On each occasion I have found them to be friendly, professional, extremely knowledgeable, courteous and dedicated. They have demonstrated excellent workmanship, attention to detail and a willingness to go the extra mile.
Hali Hellevang - Airdrie, AB
Matt responded to my phone call Sunday morning shortly after 9 in just three rings. I told him that my furnace wasn't giving me heat and he explained that he could come but that it would be less expensive if he came out on Monday. I chose to have him come ASAP and he did. He showed up at the time he said he would. Not only did he make the repair, he took the time to show me what went wrong. He also took time to educate me about furnace maintenance, life span, replacement types and options. I am very pleased with the service I got and you have gained a customer for life. I'd like to commend you for your business philosophy and wish you the success you deserve.
They came and put the furnace in today. As well as new piping and thermostat. I'm very impressed with the work so far. They were very friendly and cleaned up great after themselves. I think the guys name was Jason, he went through everything with me, even things I didn't understand lol. All about the new technology but it sounded safe and economical :)
Please pass on our appreciation to the crew; professionalism and courtesy in workmanship should always be acknowledged and commended.
We returned home at 10:30 p.m. to find water all over our kitchen floor. I turned off my water supply and called Big Springs Plumbing and left a message to have someone return my call to arrange for an inspection and repair. I received a return call the very next morning at 7:00 a.m. to be told that a servicemen would be right over. Now that is impressive. The serviceman Josh was very courteous and professional and had the problem solved and my water back on promptly. The area that was repaired was left spotless and the repair costs were extremely reasonable. I won't hesitate to call them for all my future plumbing and heating opportunities. I highly recommend Big Springs Plumbing to anyone needing excellent quality workmanship.
Mike and Janet Ripley - Airdrie, AB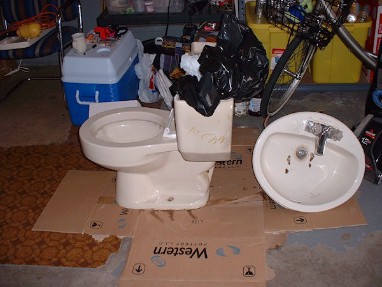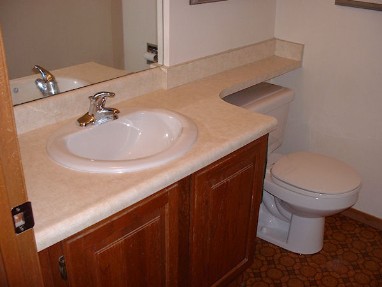 Last week Jeff installed a new toilet, sink and tap in our bathroom. I want to let you know what an excellent job he did and how pleased we are with his workmanship and customer service.

I have taken a picture of the old sink and toilet which Jeff neatly placed in the garage exactly where I requested. I have also attached a picture of Jeff's final product ... a new bathroom!

I would recommend Jeff and your company to any of my friends and family.

Donna Schnare - Airdrie, AB
Call us today for a free written quote:
403-948-6905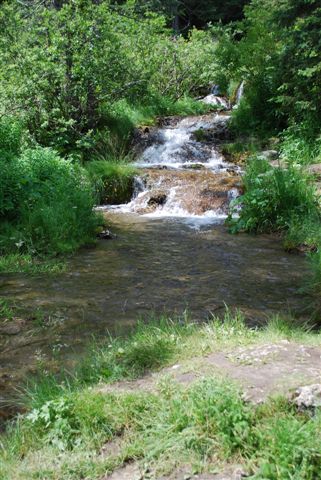 This photo was taken at
Big Springs Provincial Park
lo
cated west of Airdrie on Highway 567.
The main attraction is a series of small waterfalls that flow year-round over rocky terraces covered with a lush growth of shrubs and grasses; the park is also the site of an historic fish hatchery and Alberta's first commercial creamery.
Source: Wikipedia.